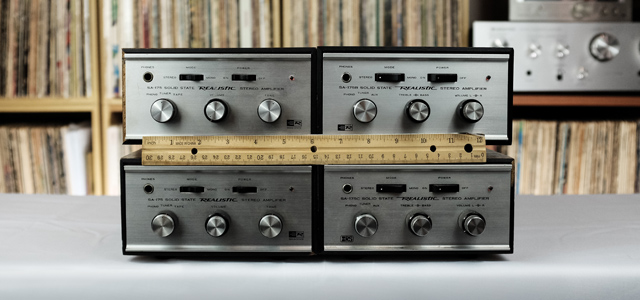 We have a good stock of the Realistic SA-175 series of compact amplifiers in all three versions: the original SA-175, the SA-175B and the SA-175C. A basic 3 input amplifier from 1969-1974, the 175's were built better than you might expect and they do a wonderful job in mini-systems with a wide range of speakers. Likely about 6-7 wpc usable power over the 20-20K range. They have long been our favorite choice for inexpensive retro systems. Some believe these were made by Trio/Kenwood in Japan for Realistic. In recent years they have acquired quite a cult following among "silver ear" enthusiasts and for good reason. Most users are amazed at how well they perform with small speakers. "The Little Amp That Could." We keep enough of these on hand to make certain you're happy with the one you purchase or to facilitate warranty exchanges. If you are a DIY type, re-cap these for even better performance.
Front Panel headphone jack, bass & trebel tone controls & magnetic phone input.
A unique size: 7″ wide x 4″ tall x 10-1/2″ deep.
Prices range from $75 – $100 depending on model type and condition.
Money well spent.