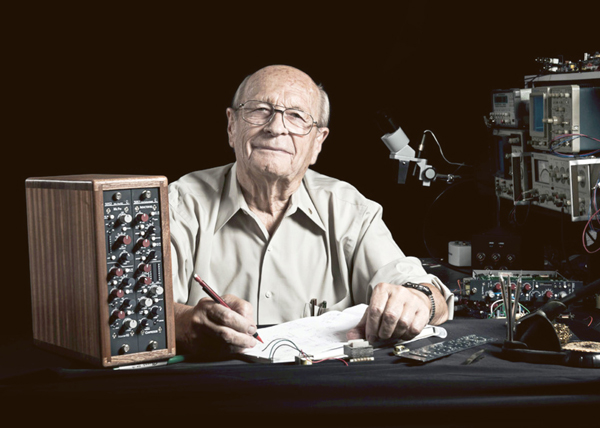 Introduction
Despite the overwhelming praise for Neve designs in the 1970s, many designers of audio equipment failed to appreciate exactly why these products sounded so wonderful and for several decades they continued to both accept and promulgate time-honored ideas about the limits of human auditory perception which Rupert Neve and others had discarded by the 1980s.
During those critical years beginning in 1990, Rupert Neve was instrumental in getting engineers to re-think their long-held views about the limitations of human hearing. Along with others, he led a movement over the next twenty years to examine the subtleties of perception and to create audio equipment that not only performed well on paper but which also transmitted that hard-to-define magic that we experience directly with a live performance or by way of a superbly recorded mix.
"We try not to stand still and as we learn more and continue to listen to the musician and producers, so we will build the sort of equipment that we think adds fullness and enjoyment to music even if we do not fully understand all the factors that make it so."
Rupert Neve 1993
Lewis Frisch
The Bedford Consultancy, Nazareth, PA
June 2021
Dedication
This essay is dedicated to all my extraordinary colleagues during my ten year association with AMEK in the US and UK. Most especially, Nick Franks, Graham Langley, Greg Hogan, John Penn, Steve Harvey, Mick Brophy, Carl Reavey, Martin Arthurs, Simaen Skolfield, Melanie (nee Peter) Harrison, Bob Owinski, Sue Jones, Ray Dilfield, Dave Lewty and, of course, Josh Thomas and Mr. Rupert Neve.
About The Author
Lewis Frisch has written and lectured on the History of Audio Technology since the mid-1980s. He began selling AMEK consoles in 1985 and served as AMEK's US Press Officer from 1989-1992. Much of his initial historical research and lecturing was sponsored by AMEK's Nick Franks.
The Essay
Part I:
What I Learned From Rupert
The author's personal reflections on his association with Rupert Neve and some things he learned from their shared experiences.
Part II:
The Changing Landscape of Audio Technology 1969-1994
A Career Overview: The Rupert Neve Company, ARN Consultants, Focusrite and AMEK
Part III:
Can You "Hear" This? Re-Examining the Limits of Auditory Perception
Beginning in the late 1960s leading designers of consumer and professional audio equipment begin to search for a better understanding of the factors that influence the "sound" of their products and the way that listeners respond to their sonic attributes.
Part IV:
Can You "Hear" This? High Resolution Audio in the 1990s
Rupert Neve and other leading equipment designers spearhead a movement for High Resolution Audio which would challenge the audio industry to accept an expanded concept of human auditory perception, leading to new standards for audio quality in the 21st century.
Part V:
In Their Own Words
Quotations from Rupert Neve and other leading equipment designers which illuminate their design philosophies and the expanded concepts of human auditory perception.