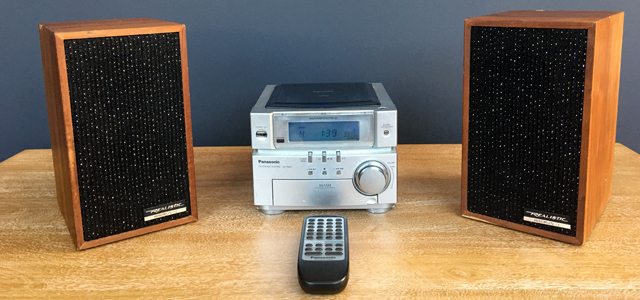 Realistic's Minimus One features a pair of very nice Foster drivers with large alnico magnets in a well-constructed acoustic suspension enclosure. These attractive 10″ x 6″ x 7″ speakers combine retro-wood mid-60's visual appeal with an exceptionally well balanced and musical sound. This first generation mini-speaker was actually considerably more pleasing to listen to than most of the better-known models that followed it.
It does not disperse widely, but within that sweet spot, the listening experience is truly impressive. Our store's demo system consistently amazes listeners with its sound quality.We highly recommend the Minimus One as an upgrade for the Panasonic PM-01/PM-03 or the KLH-Eleven W. It also mates very well with Realistic SA-175 mini-amplifiers.
Sold "As Is." Good to Very Good Condition.
$ 85 Added to the price of a Panasonic Base Unit.