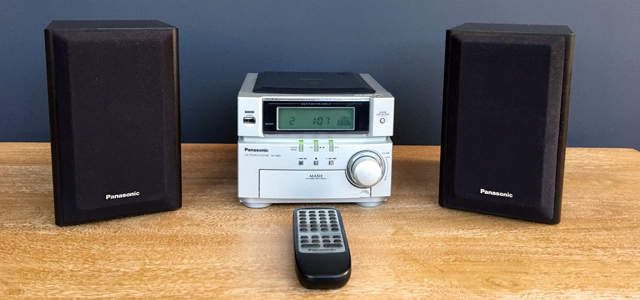 Perhaps the greatest bargain in consumer hi-fi for the past 20 years. A unique compact receiver/CD player that Panasonic over-built from 1999-2001 with quality features and great sound at a ridiculously low price. Top loading MASH CD Player with 1 bit DAC, 14 wpc amplifier, AM/FM Tuner, Display clock with Timer, Aux In and Aux Out. Full-feature remote control. Panasonic's amazing SOUND VIRTUALIZER adds width, depth and impact.
The stock speakers supplied by Panasonic are lightweight two-ways with a 4 inch woofer and a 2 inch tweeter with a plastic lens diffusor. In either BLACK or EXPRESSO they are pleasant to listen to on a wide range of material. Not great in any respect, but few obvious faults, so they provide a reasonably good listening experience that does not detract from the source material or distract the listener. Speaker upgrade options appear in listings that follow.
For more details on these mini-systems, visit our Low End Mini-Systems section.
Sold "As Is." Very Good Condition.
$ 65 Base Unit without Speakers
$ 95 Complete System with Speakers